These videos were posted over the weekend by regular, everyday citizens and their Android phones. It shows two COMPLETELY different methods of delivery the safety message to kids at school. The beauty of these videos is that they show what is really going on out there, get new ideas and change the way we do business. The ugly part of the videos is that you just got posted on SideCharlie.com! Watch the vids after the jump …
BAD, BAD, REALLY BAD EXAMPLE:
The good thing about this video is that we can't identify which department it is. What we do know is that we have two white shirts on stage boring the crap out of the kids. Poor Miko had to endure wearing all of the fire gear in front of the students and then listening to some fire officer prove that he isn't really sure what his firefighters do on each piece of equipment. How did he get through his promotional exams. Seriously? WTF! The kids don't care! Poor Miko is bored out of his skull. I believe if you listen carefully you will hear a cricket in the corner of the auditorium …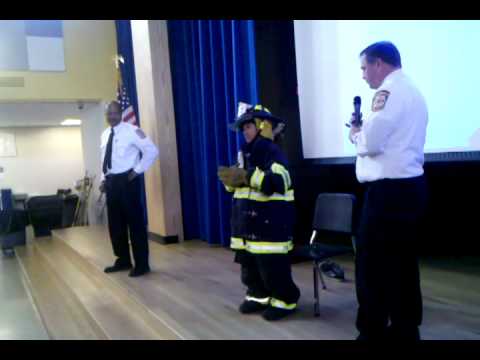 A REALLY, REALLY, REALLY GOOD EXAMPLE:
Oh Tulsa Fire Department! Oh how we love you! Without your fire safety demonstration last Friday we would be stuck thinking all school visits were filled with desk fire officers looking for a way to get out of headquarters! Ladies and gentlemen please meet Firefighter Tom and his brilliant Magic Show! Thanks to a YouTuber (tavisminner25) in the audience we get to see just how entertaining Firefighter Tom is. Listen to the kids in the audience and how receptive they are to him. Look at how much fun Justin is having on stage. And talking about the stage, check out all of the props, bright colors, as well as Tom's outfit. He makes the show look like something off of Nickelodeon. IT LOOKS FUN! Props to you Firefighter Tom and the Tulsa Fire Department!